(Piston ring) Yizheng Shuanghuan another technology was awarded the national invention patent
---

Recently, Yizheng Shuanghuan another process technology - "a piston ring surface of the multi-layer composite hard PVD coating, piston rings and the preparation process" was awarded the national invention patents, authorized patent number: ZL201410043806.9.
The invention adopts a vacuum multi-arc ion plating vapor deposition method, uses a plurality of multi-arc ion sources, and is equipped with different single metal target and multi-element target material to deposit multi-layer composite low friction coefficient on steel or cast iron piston ring surface Hard PVD coating. The purpose of this paper is to improve the wear resistance of the coatings by adding proper multi-elements on the basis of adding a single high hardness and wear resistance. At the same time, the multi-layer structure can be used to reduce the coating stress, The PVD coating piston rings with high wear resistance and low friction coefficient were prepared.
Through the promotion and implementation of the process, Yizheng Shuanghuan will bring significant sales benefits in the heavy-duty engine market as well as the commercial vehicle market, and thus promote the overall market effect of PVD piston rings.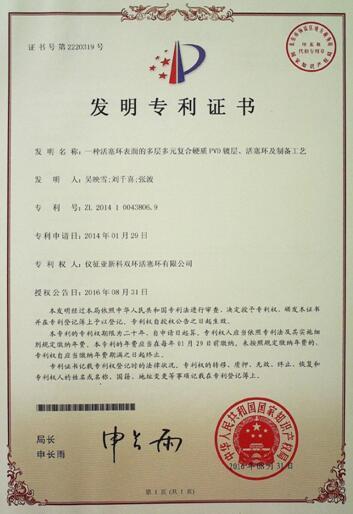 shuanghuan